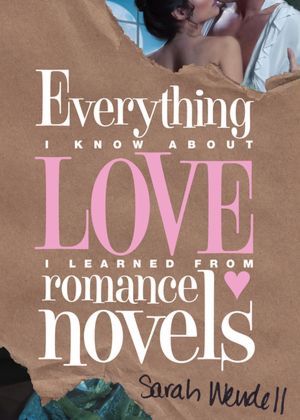 Title:
Everything I Know About Love I Learned From Romance Novels
Author: Sarah Wendell
Enjoyment Rating: ***
Source: Paper copy
Content Alert: Some swearing, discussion of some racy bits from romance novels
For the last few years, I've been trying to overcome my prejudice against romance novels. This isn't really that hard, because I enjoy reading them. What is hard is admitting that I enjoy reading them. I've decided to embrace that fact, and decided to educate myself a little more about the genre. I turned to Sarah Wendell, who, along with Pop Culture Happy Hour podcast host Linda Holmes, have been instrumental in helping me nudge myself out of the closet and proclaim myself a lover of the HEA (Happily Ever After, in romance-speak). In
Everything I Know About Love I Learned from Romance Novels
, Wendell draws on her own vast experience as the co-creator of S
mart Bitches, Trashy Books
, a website dedicated to romance reviews, as well as an online community of romance readers. Wendell uses her online community and her relationship with romance authors as primary source material for the books, asking these readers and authors what they've learned from reading romance. The book is fun and enlightening, especially the parts about how romance novels teach women to navigate conflicts, to be more assertive in relationships, and to be smarter about sex. I also added a dozen or so books to my reading list. It's also a quick read-- I read the entire thing one night when I was putting Rose to bed.