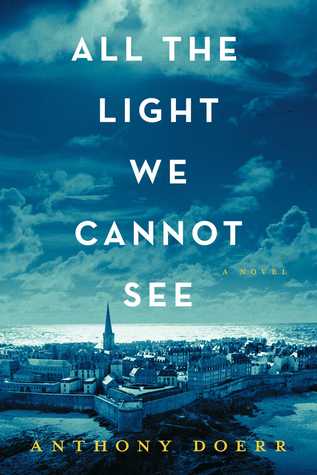 Title:
All the Light We Cannot See
Author: Anthony Doerr
Enjoyment Rating: ****
Source: Library Copy
Content Alert: some violence and swearing
A couple of months ago, I heard Anthony Doerr
interviewed on RadioWest
about
All the Light We Cannot See
. I had been sort of on the fence about reading the novel, since I feel like I've reached a saturation point with World War II novels with young female protagonists, but after I listened to him talk about his process (the book took ten years to write) and about some of the subtler things in the novel (the way light plays such a prominent part in the narrative, for example), I decided to read it.
The story centers on two characters. Marie-Laure is the blind daughter of the chief locksmith of the Museum of Natural History in Paris. When the Germans come to occupy Paris, the pair takes refuge with an eccentric old uncle in Brittany, and they bring along with them what might be one of the greatest treasures the museum holds-- an enormous diamond reputed to be cursed. Werner is German orphan who is unusually bright and fascinated by radios. He escapes the fate of most of the boys in town (the mines) by attending a Nazi youth academy, and eventually they capitalize his aptitude for fixing and building radios by assigning him to track Resistance radio signals. Eventually, and briefly, the two stories come together, and then, all too soon, their time together ends.
I think it's fascinating to hear an author's perspective on a novel. If I had read the book without hearing Doerr talk about it, I don't think I would have enjoyed it nearly as much. It's a ruminative book, one that feels like it took ten years to write. Every word is considered and measured. And while it's a war story, it doesn't feel action-packed. But I found myself falling in love with Marie-Laure, as Doerr explained her, and there was a palpable sense of the spaces she inhabited in Brittany. I didn't feel that the Werner story was quite as compelling, but the modern-day resolution was absolutely lovely. I think All the Light We Cannot See was definitely the most beautiful book I've read this summer, and Marie-Laure is a character who will stay with me for a long time.